This is a mod which concentrates on assisting your survival in desert biomes. It adds three new sets of tools, cactus, sandstone and glass steel. It also adds a new armor set which you can make from cactus. There are sixteen desert-themed plants that only spawn in desert biomes. You can make a new substance called Glass Steel ingots, which you can use to make either new tools, or a glass steel window which can resists explosions. To top it off, Pam has made this mod Thaumcraft Compatible. Details of how to create all the things mentioned here can be found using the links in the navigation box near the bottom of this page.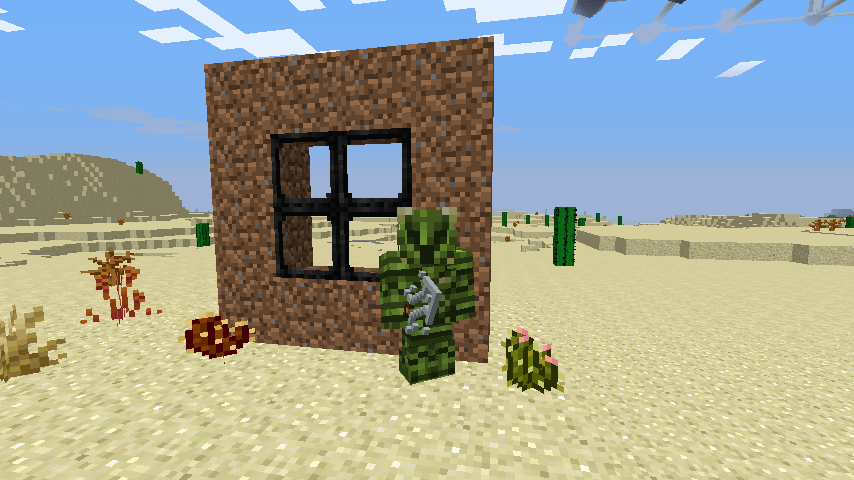 A picture of Me in my new Cactus Armor, holding my new Glasssteel Sword and standing in front of an unbreakable Glasssteel Window, with some of the new DesertCraft plants.

The mod generates a config file after the first time you have started Minecraft with this mod installed called 'desertcraft.cfg'. There are multiple options available :
B:enablefloweringvineblocks=true
B:enablecactustools=true
B:enablecactustoplankrecipe=true
B:enabledesertplants=true
B:enableglasssteeltools=true
B:enablesandstonetools=true
Changing any of the options to 'false' will switch off that particular part of the mod. For example, enabledesertplants=false will make none of the desert plants appear in your Minecraft World.
Available for MC 1.7.10
Installation Instructions for this mod can be found HERE. What this mod adds to Minecraft
Blocks = 16 (Desert Flowers)
Items = 20
Recipies = 22
Please Click HERE for Downloads
Pam's Mods Blocks and Items
Community content is available under
CC-BY-SA
unless otherwise noted.