Creeper Pod
Edit
Creeper Pods will randomly generate in Forest Biomes in a newly created world with this mod installed. If you come across one, it can be broken with your hand, or a tool, which will result in it dropping usually 1 Gunpowder, and more rarely up to 4 Gunpowder in the latest version. The Creeper seed when planted will produce a Creeper Vine and after the vine is fully grown, it'll produce a Creeper Pod, very much in the same way
Melons
or
Pumpkins
do. You may break the Creeper Vine before it produces a pod and it will return you the seed for you to start again.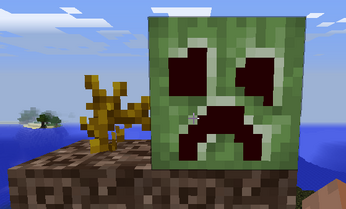 After obtaining some Gunpowder, it is possible to create a growing area anywhere you like and craft Creeper Seeds to make a garden of Creeper Pods. To plant a Creeper Seed, you
MUST
make your growing area out of
Soul Sand
. Creeper Seeds will only grow, and can only be planted on
Soul Sand
. Although the seed needs to be planted on
Soul Sand
, the pod will appear ontop of soil and a few other types of block, ( i.e. sand ). The
Soul Sand
will
not
need to be hoe'd.
Creeper Pod are slow growing, so be a little patient. If you are not a patient person, you can hurry the growing process with
Bonemeal
.
Here's how to craft a Creeper Seed
Pam's Mods Blocks and Items